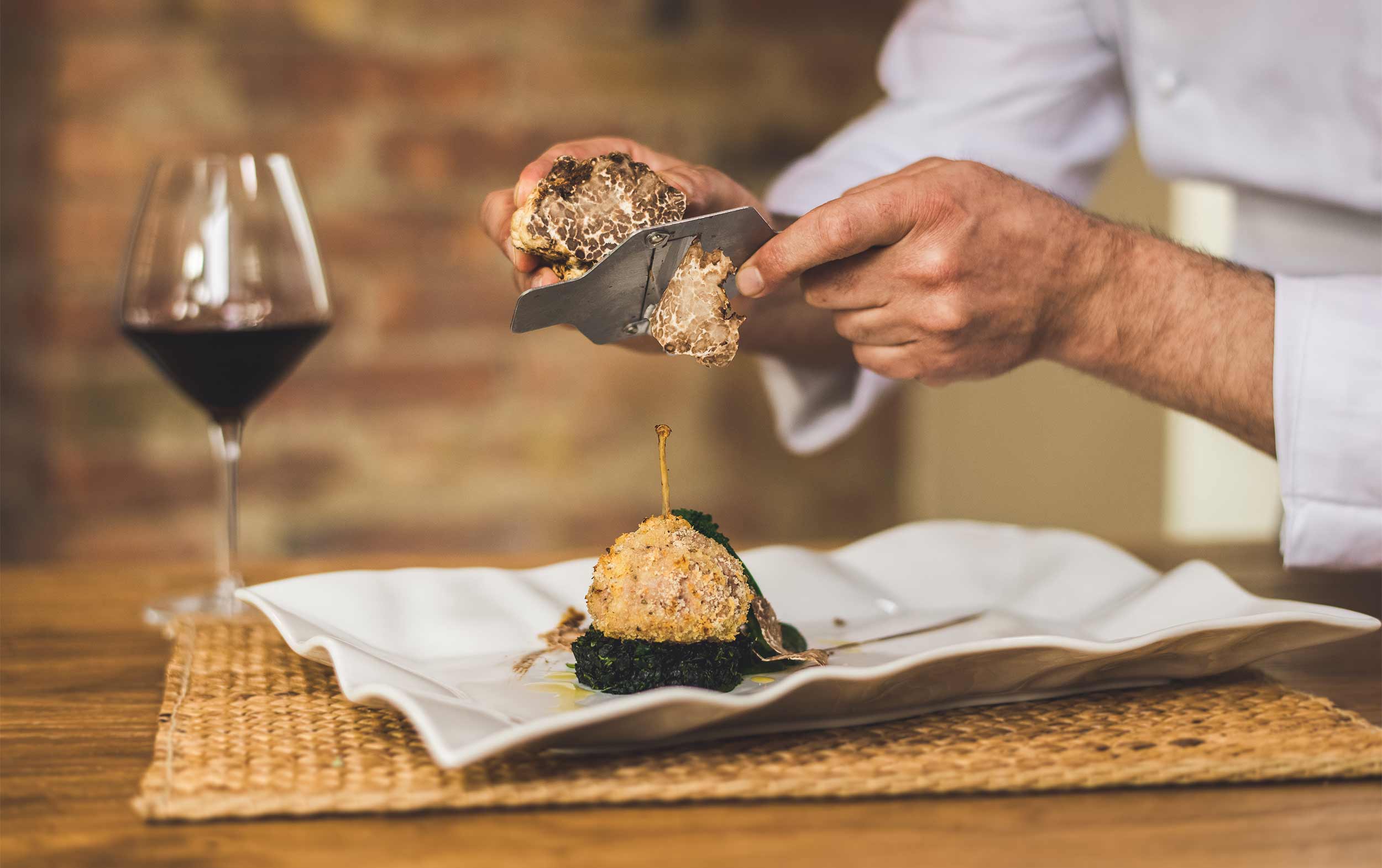 Starters
The quail in two consistences:
the glazed breast with Vin Santo wine, the crunchy thigh, its egg, fois gras and endive on the bridge.
18€
Marinated Salmon with redbeet,crispy salad, sour cream and toasted sasame seeds.
18€
Shortcrust pastry , soft thistles, chervil goat's cheese and saffron sauce.
15€
Crunchy octopus, cous cous, potatoes, black garlic, parsley's oil and cucumber.
18€
Mackerel fish,kombu seaweed, roasted pepper , Jerusalem artichoke , quinoa's tin slice and watercress.
16€
First courses
Ravioli pasta stuffed with milky codfish, fresh chives, creamed peas and crunchy zucchini flowers.
18€
Pici noodles pasta, longhorn chianina beef white ragù,miso and light smoking in olive wood.
20€
Mini potatoes dumplings seasoned with datterino tomato and Tuscan pesto, pecorino di fossa cheese and chips of rice.
18€
"Cinta senese" (saddleback pig) "bottoni" egg pasta, lobster, its jus and lemon thyme.
22€
Soups
Traditional vegetables consommè, egg 50°.
16€
Second courses
Seared red mullet, "pancotto" (cooked bread), coriander and lemon zest.
26€
Lamb's chops breaded with thyme, chard and parsnip's cream.
26€
Pan-browned Pigeon , red Porto wine reduction, cherry and stewed escarole.
28€
Roasted wild boar loin, healing herbs , demi-glace at roots and mashed potatoes and carrots.
26€
Golden- brown sea bass , its bisquet reduced, green beans , fresh fennel and puffed sorgum.
26€
Dessert
Honey's shortcrust pastry, vanilla scented cheesecake cream, cinnamon, cruncy pears and toasted hazelnuts
8€
Cocoa streusel, smooth dark chocolate, orange land and passionfruit ice-cream
8€
Green apple macaron, mint and lime sauce.
8€
Almond's " semifreddo" served with crumble of coffee, ginger caviar and italian meringue
8€
Selection of pecorino cheeses from the Siennese Clay hills served with acacia honey, fig jam and roasted nuts.
10€
Velvety clementine, wafer and "Bronte's pistachio".
8€
Vanilla mousse, chestnuts biscuit an glazed raspberry mirror.
8€
Truffle-based Recipes (local truffles from the Siennese Clay Hills)
Starters
Crostini canapés of milled maize polenta and sun-dried tomatoes au gratin with DOP fontina cheese, and fresh truffle shavings.
18€
Slow-cooked pheasant breast on a crispy pastry, poppy seeds, Tropea's onion,blueberries juice and fresh truffle shavings.
20€
Browned red prowns from Mazara del Vallo, zolfini beans, bay leaf sponge and fresh truffle shavings
28€
First courses
Durum wheat semolina ,asparagus, taleggio cheese, finocchiona's crumbs and fresh truffle shavings.
20€
Tagliolini egg noodles, almond powder and fresh truffle shavings
20€
Carnaroli risotto with purple cabbage, saffron pistils(locally grown at Frances' Lodge) burrata cheese and fresh truffle shavings
22€
second courses
Three select cuts of local longhorn Chianina beef, paired with fresh truffles
28€
Pork fillet, shiitake mushrooms sauce, shallots glazed with apple vinegar and fresh truffle shavings
28€
Poached egg, dried cauliflower, blue salt from Persia and fresh truffle shavings
22€
Seared scallops in a blackberries breadcrumbs, violet potatoes mousse and fresh truffle shavings
28€
Truffle Tasting Menu
(minimum 2 persons)
Local Flavors and Classics with a Creative Twist: Tasting Menu